Brighton, CO
2239 Prairie Center Parkway
Unit A
Brighton, CO 80601
Phone: (303) 655-9510
Please Note Our Temporary Hours
Restaurant Catering in Brighton, CO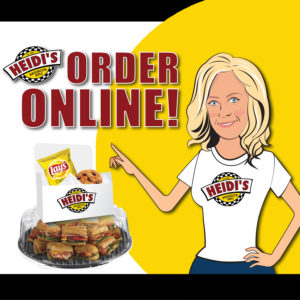 Craving high quality ingredients with fresh bread that is baked daily?
Proud to be 'Born in Brooklyn…Raised in Brighton.'
Every Heidi's Brooklyn Deli bakes 8 different flavors of bread from scratch with no additives or preservatives. From high quality sandwiches, handmade bagels and breakfast to fresh salads, delicious soups, delectable desserts and so much more; Heidi's Brooklyn Deli looks forward to serving you.
Don't forget to ask about our vegetarian options.
The right menu can make or break an event. Make sure you choose the best food in Brighton, CO, for your next event by choosing Heidi's Brooklyn Deli. Our catering services offer a wide variety of options to choose from, and we'll make sure your event is a success.
Fresh Bread, Made From Scratch, Daily!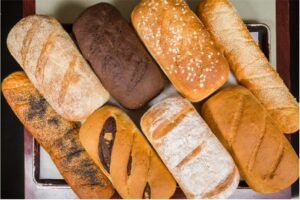 Serving Over 30 Different Sandwiches, Hot and Cold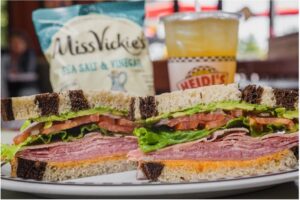 Breakfast Served All Day!
Serving Breakfast Burritos, Breakfast Sandwiches, Freshly Baked Bagels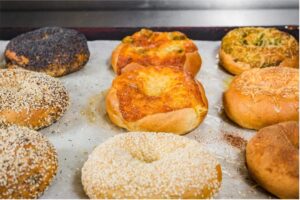 Smoothies
Made with just frozen fruit and juice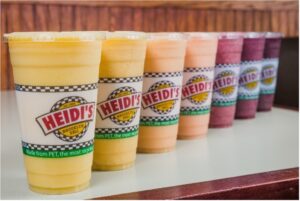 Call Us or Check Online for Our Daily Soup Selection – Now Including Aged, White Cheddar, Mac n' Cheese
Food For Everyone: Salads, Wraps, and Plenty of Vegetarian Options
 

Try Our Cajun Sauce on one of our many sandwiches                                                                    
Cajun Turkey with Avocado
Hell's Kitchen
Transplanted New Yorker
And More!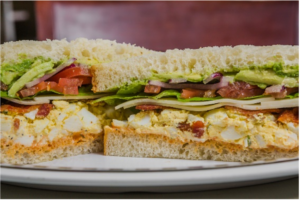 We Do Catering!
Boxed Lunches, Sandwich Platters, Wrap Platters, Desserts Platters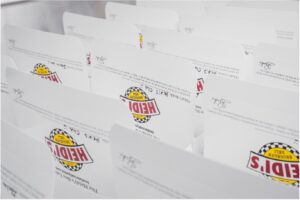 Our Catering Options
We give you all the options you need to satisfy the attendees at your event, whether you want to try our bagel or pastry platter for a family reunion breakfast or individual boxed lunches or sandwich platter options for a corporate meeting. Of course, you can top off any occasion with a selection of our fresh baked cookies or brownies.
We use only clean and natural ingredients that are free of antibiotics, hormones, nitrites, and nitrates whenever and wherever possible. So you'll get quality ingredients and a range of options, including a veggie selection. Plus we bake eight different flavors of our own sandwich bread and bread loaves daily so that it's always fresh.
Our restaurant catering service gives you convenience with a pickup and delivery option. You can also rely on us to give you a personal experience that you'll love.
Heidi's Brooklyn Deli has over 25 years of service, and we'll make sure you have a stress-free experience and delicious catered food for your next event.
Address:
2239 Prairie Center Parkway
Brighton, CO 80601
Testimonials
Fabulous New York style deli. Their Cajun sauce is awesome. Fresh, homemade breads daily. I had the Spicy Ham and Cheese on Light Jewish Rye…Amazing!!!

Skip S.
I had the Salmon Sandwich. AMAZING! Sweet, spicy and all over delicious!
I'll be back next week!

Jessica M.
These guys know how to make a mean sandwich. Where else can you get a Bronx Bomber (Pastrami, Egg Salad on Rye) with coleslaw? Man I'm in heaven!

Daniel R.
Currently in egg salad coma. HUGE sandwiches with delicious, soft and fresh bread. I got a sandwich, pickle, chips and drink all for one low price.

Nikki B.
It's really hard to find a good sandwich outside of New York. I think Heidi's has accomplished this. I had the Eggplant Sandwich and it was excellent!

Tina H.